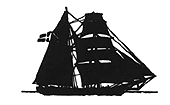 The wooden shipyard at Gamleby
The yard continues to provide a maintenance and repair facility for historic vessels. By doing so, it keeps alive traditional skills associated with them. The length of the slipway is sufficient for two large sailing vessels to be hauled out and worked on below the waterline at the same time. There are facilities for large baulks of timber to be shaped nearby, and pieces up to 15m long can pass through the sawing machine. Various devices for shaping metal are on hand.

Individual tourists and groups with a special interest may visit the yard almost any day. They may also sail on the two-masted schooner Linnea , and thus experience how a medium-sized sailing ship is handled, relying only on muscle-power. Even the auxiliary motor is antique and traditional.
Man and the Sea Foundation
Man and the Sea Founded 1986.
Contact person: Egil Bergström tel. +46493-101 74
Träskeppsvarvet tel. +46493-121 64
Address: Casimirsborgs gård. Gamlebyvikens inre del.
SE-594 30 Gamleby
www.traskepp.se
Open: Winter weekdays 0730 - 1600
Summer: occasionally manned, please contact in advance
Feature: The three masted Schooner Vega on the slipway and the two masted schooner Linnéa, operating training ship.
Entrance: 20:- SEK. Guided tour: 200:- SEK
Guided tours: English, German, French
Catalogues: English, German, French